recipe of the month
Gorgonzola Stuffed Morels
As morels start to appear in the foothills and mountains of California, here is a simple recipe that packs a big wallop of flavor. Regardless of your hunting success, as few as a dozen morels will make this lovely appetizer.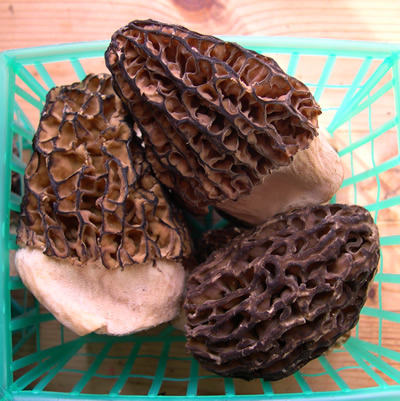 © photo by Debbie Viess
Be sure to use small morels, since the stuffing is so rich. If you have no time to travel to the mountains, try one of our local markets that sell wild mushrooms: in the East Bay, the Berkeley Bowl or Monterey Produce; in San Francisco, try Far West Fungi in the Ferry Building. Serve these as a hot hors d'oeuvre; folks will fight for an invite to your next soiree!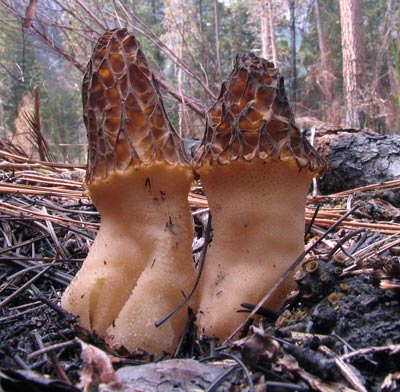 © photo by Hugh Smith
Ingredients:
Small morels, about one inch in length, enough to give your guests several morels each
Crumbly Gorgonzola (Italian or domestic is fine; amount dependant upon the number of morels you are stuffing)
Equal amounts of chopped pecans
Plain breadcrumbs (enough to hold ingredients together)
Melted butter
Directions:
Place morels upright in a strawberry basket (or facsimile), rinse briefly. Drain on cloth or paper towels. Trim bottom of stem, slice in half, remove any prior occupants, and discard any spoiled mushrooms. Brush outside of morel lightly with melted butter, place hollow side up in glass baking dish. Combine gorgonzola, pecans and breadcrumbs until you have a workable mixture; stuff in morel cavities; press into place.
Bake in 350 degree oven, until cheese melts and lightly browns, and morels are well cooked.
© Debbie Viess