recipe of the month
Porcini Parmesan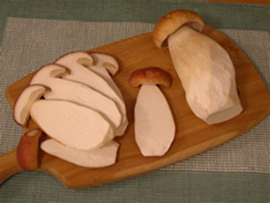 © photo by Debbie Viess
This is my favorite way to use fresh Boletus edulis. It is cooked like Chicken Parmesan, but the porcini version has a wonderful earthy flavor. If the pores are still white, you can use the whole mushroom; otherwise, peel off the mature pores and dry for stock.
Ingredients:
Fresh, firm Boletus edulis, cut thickly
Tomato sauce (use a good, simple jar sauce, like "Classico" Tomato Basil)
1 pound Mozzarella cheese, sliced
1 cup Parmesan Cheese
Coating for porcini:
Egg, flour, Panko bread crumbs, oregano, salt, pepper
Mild oil for frying
Dip both sides of your porcini slices in flour, then beaten egg, then Panko accented with oregano and salt and pepper. Allow to air-dry for ½ hour on a rack (an oven rack works well). Fry breaded slices in hot oil until browned on both sides, drain on brown paper.
(Note: you can freeze slices at this stage, to make this dish later in the season, when fresh porcini is no longer available).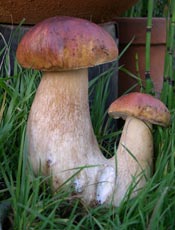 © photo by Debbie Viess
Add ½ cup tomato sauce to bottom of large, shallow glass pan. Add porcini slices to pan, overlapping slightly. Sprinkle parmesan cheese lightly over slices, spoon tomato sauce over porcini to cover. Place sliced mozzarella on top, then sprinkle on the rest of the parmesan. Bake covered in 350 degree oven until cheese melts and browns and sauce bubbles, about 30 minutes.
© Debbie Viess