recipe of the month
Dried Lima Beans with Candy Caps and Ham Hocks
This recipe is one of my favorite ways to use dried candy caps.
Note: overnight soaking of beans and candy caps is essential to soften the beans and to provide a flavored broth for cooking.
Ingredients:
1 pound dried baby lima beans
1 handful dried candy caps (Lactarius rubidus or rufulus)
2 quarts water
3 smoked ham hocks
4 cloves
1 bay leaf
2 Tbs. brown sugar
celery tops bundled with string
2 cloves garlic, chopped
2 tsp. salt
¼ tsp. pepper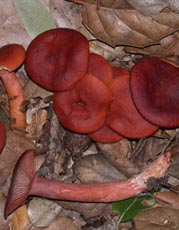 © photo by Darvin DeShazer
Wash and sort lima beans. Place in large, heavy-bottomed pot, cover with water. Discard any beans that rise to the surface. Add candy caps, but do not stir (you will scoop out the mushrooms the next morning). Allow to stand overnight.
Before cooking, remove mushrooms (a large flat strainer works well) and chop coarsely. Return mushrooms to lima bean and broth mixture. Add to pot the ham hocks, a peeled onion studded with 4 cloves, a bay leaf, brown sugar, salt, pepper, and 4-5 sprigs of celery tops. Bring to a boil, turn down flame to low. Simmer covered for
1½ hours.
Remove and discard the celery, onion, and bay leaf. Remove the ham hocks, allow to cool, peel off the skin, and carefully strip the fat from the meat. Coarsely chop the meat and return to pot. Boil beans at a high temperature until the liquid is reduced, or you can also serve this dish as a delicious soup.
© Debbie Viess
(Adapted from "Mushroom Cookery" by Rosetta Reitz, a pioneering mushroom cook from the 1950s)