recipe of the month
Matsutake Soup: "Golden Matsutake"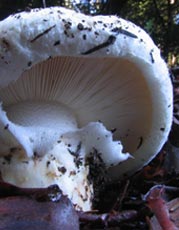 © photo by Hugh Smith
The unique fragrance and flavor of the matsutake lends itself well to Asian-styled cookery. Unlike with most wild mushrooms, butter and cheese are not a good combination. This fine recipe, suitable for vegans through omnivores, was created by Bob Sellers of the Fungus Federation of Santa Cruz.
To one gallon of water, add the following chopped vegetables:
2 leeks (whites only)
4 to 6 stalks celery
½ pound carrots
1 small turnip
1 small parsnip
½ bunch parsley
kombu, 3-6 inch piece
Bring ingredients to boil, reduce heat and simmer for one hour. Strain out the vegetables and reserve for other uses.
Add to the clear stock:
½ pound diced matsutake (Tricholoma magnivelare, stems and caps)
1 heaping tablespoon of shredded fresh ginger
Return soup to boil, adding more liquid if necessary.
Before serving add:
1 tablespoon tamari
1 tablespoon Bragg's liquid aminos (or less, it's very salty)
1 tablespoon sesame oil
Adjust seasonings to taste. Sprinkle with chrysanthemum petals and serve.
Serves 10-12.
Note: Kombu and Bragg's liquid can be found at most health food stores. Soy sauce or tamari can be substituted for Bragg's.
This recipe was first published in the excellent cookbook: "From Duff to Dinner, A Gourmet's Guide to Mushroom Cookery, With Selected Recipes From Master Chefs," edited by Marjorie Young and Vince Viverito. It is reprinted here with permission.