recipe of the month
Chanterelle Soup
Chanterelles can be found most times of the year, depending on how far you are willing to travel. This recipe comes to us from John-Marc Ventimiglia in Crested Butte, Colorado. We understand this past summer was a banner year for chanterelles, and what better way to use your wretched excess than to make a heavenly cream of chanterelle soup?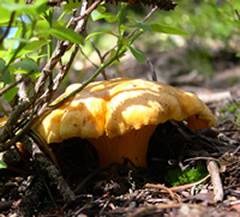 Colorado Cantharellus cibarius © photo by David Rust
2 or more cups fresh chanterelles
2 large fine diced shallots
3 cloves garlic
1/2 cup young Sauternes (or other fruitier sweet white, or sherry)
1 pint chicken broth
1 cup cream
1/4 tsp cayenne
1/2 cup or more toasted hazelnuts
salt to taste
roux
Cook fresh chanterelles in skillet with light olive oil and/or butter with onions and chopped garlic.
While cooking, in a soup pot, add stock, cream and bring to a simmer.
When moisture has disappeared from chanterelles, pour into stock/cream and pour wine into skillet to lift off remaining flavor and pour into stock mix. (This is called de-glazing the skillet.)
Crush the hazelnuts, and save some to sprinkle on top at service, adding the rest to the soup.
Add cayenne and adjust cayenne and salt to taste.
Thicken with roux.
Serves 6-8
Heres a good recipe: http://www.ehow.com/how_13900_make-roux.html. For this dish you want what is called a 'blonde' roux which is quite a bit lighter.
How to thicken with roux
Start with about 1 TB of warm roux. The roux should be warm enough to have the oil liquid and not solid. Body temperature is enough.
The trick is to whisk in a little at a time and let the soup come back to a simmer for 1 minute. At that time, the roux will have a chance to thicken the sauce. It will not thicken until it comes back to a simmer. At that point, repeat until it is close to the thickness you want. Finally, simmer for another 15 minutes to dissolve any leftover roux clumps and mellow out the 'flour' taste.
This is a recipe I developed for Soupcon Restaurant when I worked there in 1984. While very classic, it is very good. Ideas for experimentation that I would do today:
Garnish with a small mint leaf with an eyedropper of Frangelico liqueur. Add ¼ cup of blood orange vinegar to white wine.
contributed by John-Marc Ventimiglia ©