recipe of the month
Smoked Duck and Candy Cap Chow Mein

© photo by Debbie Viess
It's been an exceptional year for Lactarius rubidus (or rufulus), locally known as the Candy Cap mushroom. (See cautions on identification below and our Candy Cap Mushroom of the Month page.)
These delightful fungi are highly valued for their strong scent of maple syrup and pineapple when dried. However, as fresh mushrooms, they are a subtle addition to dishes with curries, in sauces, or as presented here, with smoked meat. This recipe was contributed by Elissa Rubin-Mahon.
1 package thick fresh chow mein noodles**
1 pound fresh candy caps
1 bunch green onions, cut into 2-inch pieces
2 tablespoons chopped cilantro
2 tablespoons medium kejap manis, or to taste***
1 and 1/2 cups coarsely shredded smoked duck, or smoked turkey or chicken****
canola oil for the wok or skillet
1 tsp sesame oil (available in Asian markets or oriental food sections of supermarkets)
Cook noodles according to the package directions, drain and toss with a small amount of oil to keep them from sticking together, set aside.
Heat a wok or large skillet to high and and add a small moderate amount of oil. When the oil becomes hot, add the Candy Caps and cook until they give up their juice. Remove the mushrooms from the wok with a slotted spoon, but leave the juice in the wok. Add the smoked duck green onions and cook until the onions wilt. Add the noodles and kejap manis, and stir until the noodles are hot. If the noodles are sticking, Add more oil or a small amount of water to the pan When the dish is cooked, turn off the heat and toss with the sesame oil and cilantro.
Serves 4.
**Fresh chow mein noodles are available in most supermarkets in the cold case or produce section.
***Kejap manis is a sweet soy sauce from Indonesia. Medium sweetness is best. It is available at most asian markets. If you cannot find it, substitute 1 tablespoon of hoisin sauce (found in all asian food sections of major supermarkets), and 1 tablespoon soy sauce.
****Smoked duck is available at Willy Bird Turkey Store, between Santa Rosa and Sebastapol. If you are using smoked turkey or chicken use the best quality you can find. Chinese roast duck is a delicious substitute for the smoked meat.
Contributed by © Elissa Rubin-Mahon 2010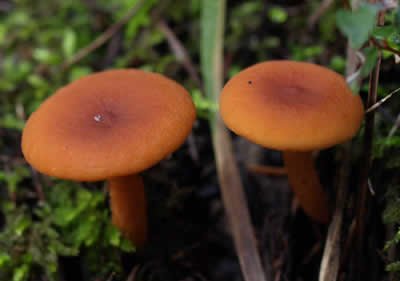 Candy caps should snap at the stem, and have a rough texture on the cap. In most cases, the gills, when broken with a knife edge or fingernail, will exude a milky latex. Lactarius rubidus grow on soil and not on wood. They can be found under both oaks and pine. Poisonous lookalikes do exist. Be sure of your identification.