membership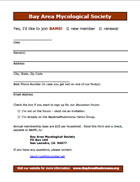 BAMS membership dues are $10 per year. Please download and complete the PDF membership form and send it with a check payable to "BAMS" to:
Bay Area Mycological Society
PO Box 164
San Leandro, CA 94577
If you have questions about membership, email us at

To keep abreast of our activities, join our online discussion group.
To learn more about upcoming events, visit our calendar.
BAMS is an affiliated club of the North American Mycological Association (NAMA). BAMS members can join NAMA at the discounted rate of $25.