event calendar
BAMS Monthly Meeting
Debbie Viess: California Myco-Wizard in the Land of OZ
UC Berkeley, 338 Koshland Hall
Thursday, October 13, 2016 | 7:30 - 9:30 pm
BAMS Co-Founder Debbie Viess presents, "California Myco-Wizard in the Land of OZ", a fun and engaging talk about the marvelous natural history of the Eastern Coast of Australia, from steamy Tropical Queensland to the chilly shores of Philip Island. Fungi both familiar and utterly strange as well as a sampling of the curious creatures which dwell on this island/continent/country will be shown and discussed. Let Amanitarita be your guide to the magic of OZ, which is what the Aussies call their magnificent and dazzlingly different home. Prepare to be enchanted!
Debbie Viess is a biologist, naturalist, writer and artist, obsessed with mushrooms for over 30 years. She co-founded the Bay Area Mycological Society, a science-centric mushroom club. She has been instrumental in creating and managing the annual Point Reyes National Seashore Fungus Fairs, and has been a prominent contributor to the Point Reyes Mycoblitz and the ongoing Yosemite Fungal Survey. Debbie has taught mushroom field classes for the California Academy of Sciences, the Audubon Society, Albany Adult School, Point Reyes Field Seminars and the University of California Botanical Garden, and has lectured about mushrooms to audiences around the country.
Doors open at 7:30. Meeting starts promptly at 8:00.
BAMS Monthly Meeting
Rick Kerrigan: Agaricus of North America
UC Berkeley, 338 Koshland Hall
Thursday, November 17, 2016 | 7:30 - 9:30 pm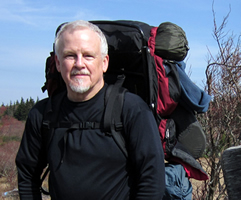 Rick Kerrigan was born and raised in California. He holds three degrees focused on mycology, including a doctorate from University of California, Santa Barbara (1989). His mentors include David Arora and Dr. Harry Thiers. Kerrigan has published many peer-reviewed and symposium papers on Agaricus, and a small volume on Agaricaceae of California, Volume 6 (Mad River Press, 1996). Pre-2016, he had introduced and named 11 or so new species or subspecies of Agaricus. He has also been awarded several US and international patents on new mushroom varieties and technologies. Rick has worked in the mushroom industry since 1991 at Sylvan, Inc., a mushroom spawn company. For most of that time he directed the company's US research effort and led the strain development team.
Kerrigan's new book, "Agaricus of North America", is scheduled to release in September, 2016; it will, among other things, introduce and name more than 40 new species, subspecies and varieties of Agaricus.
Doors open at 7:30. Meeting starts promptly at 8:00.
East Bay Regional Parks Botanic Garden Talk and Walk
Visitor Center | Sunday, December 11, 2016, 10am -12:30 pm
Enjoy a beautifully illustrated, fun, and fact-filled talk on the many local species of mushrooms that we commonly encounter in our lawns, gardens, and woods. Learn how fungi are intricately and essentially connected to most if not all plants, then enjoy a hands-on walk of fungal discovery in the EBRPD Botanic Garden. Cost: $25 members/ $30 nonmembers. For more information and to register, follow this link.
12th Annual Point Reyes National Seashore Fungus Fair
January 7, 2017 - Collecting Foray | Red Barn, Bear Valley
Join us for a collecting foray 10:00 am to 1:00 pm. We'll meet in front of the Bear Valley Visitor Center parking lot to organize. Be sure to bring a basket or bag, water, compass, knife, pencil/pen, and a lunch.
This is a collecting event for the fair, not a guided foray. Be prepared to learn, and be prepared to participate!
Bring collections to the Red Barn starting at 1:00 pm for identification. No registration required; just show up before 10:00 am. Contact David Rust 510.468.5014 for more details.
January 8, 2017 - Fungus Fair | Bear Valley Visitor Center
Join us for the 12th annual Point Reyes National Seashore Fungus Fair. Attend free lectures in the Bear Valley Visitor Center Auditorium. Learn about fungi and their role in the many Point Reyes habitats, from grasslands to redwoods. See the remarkable colors and shapes of wild mushrooms collected in the park. Be sure to see the mushroom display tables in back of the Visitor Center.
Sponsored by Point Reyes National Seashore and Bay Area Mycological Society! Contact David Rust 510.468.5014 for more details. Visit our event page to learn more.
Sycamore Grove Mushroom Madness
Sunday, January 15, 2017 | 1:00 – 4:00 pm
Sycamore Grove/Veterans Park | Livermore, California
Join Ranger Amy Wolitzer and BAMS' Debbie Veiss for the annual mushroom hunt at 1:00 pm. Meet at Sycamore Grove/Veterans Park 5035 Arroyo Rd, Livermore, CA 94550. We always find lots of interesting mushrooms at Sycamore Grove. After the hunt, we'll regroup at the picnic area to view and discuss the finds of the day. Please use this map to find us. We are meeting at the ranger office located up the road that goes to the Veterans Hospital. For more information, contact Debbie Viess at 510.430.9353.