recipe of the month
Porcini Pasta with Pancetta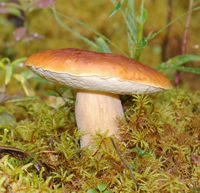 Fresh boletus in Alaska
This recipe brings out the nutty flavor of fresh Boletus edulis var grandedulis (even the name of the mushroom is a mouthful!) with pancetta, dino kale and leeks. The secret to this recipe is to mix the roasted mushrooms and pancetta at the last minute, to keep their crunchy texture.
Ingredients:
3-4 small fresh edulis or one large one, sliced
½ lb. pancetta, sliced thin
2 leeks
4 cups chopped dinosaur kale
4T olive oil
2T Marsala
1 lb. penne pasta
Grated parmesan or other hard cheese
Clean the mushrooms, cutting off any discoloration or dirt. Make thin slices, approximately 1/4 inch. Toss (or brush) with 2T olive oil to coat. Spread on non-stick cookie sheet (you should have enough porcini to cover the sheet, leaving space between). Cut pancetta into medium size pieces and spread between the edulis on the cookie sheet. Roast in 380 degree oven for 15 minutes, checking to make sure it's not burning. You may need to stir a couple times so that the porcini cook evenly.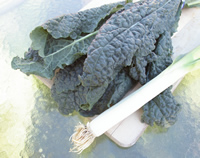 Dinosaur kale and leek
Clean and slice leeks into 1/8 inch thick rounds. Cook for five minutes on high heat with 2T olive oil. Start the pasta. When the leeks are soft (not brown), add 4 cups roughly chopped dinosaur kale. Braise the kale, stirring frequently until it becomes wilted. Add marsala and cover. Turn the heat to low. Steam the kale, but do not overcook. You may need to add extra moisture toward the end, pasta water or broth, but the vegetables shouldn't sit in liquid.
Drain the pasta and add to the vegetables. Stir and add moisture (above) as needed. Add salt and pepper to taste. Pull the roasted porcini/pancetta from the oven, add to the vegetables and pasta, toss and serve immediately, so that the mushrooms and pancetta retain their crispy texture.
Serve with grated parmesan.
© David Rust