Cultivated Fungi
A Trip to the Mushroom Farm
Ever wonder where all those beautiful cultivated fungi in the stores and markets come from?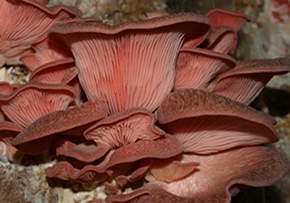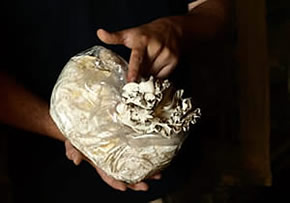 Pink oyster and maitake mushrooms at the peak of freshness. Photos © Debbie Viess.
To find out, we took a tour last year with the Fungus Federation of Santa Cruz and Slow Food Santa Cruz to the Far West Fungi mushroom farm in Moss Landing, California. Close to a hundred folks attended and were treated to a feast of natural, locally grown foods. While Toby Garrone and a crew of volunteers organized cooking in the kitchen and outdoors on the grill, John Garrone and sons Ian and Kyle led tours of the facilities.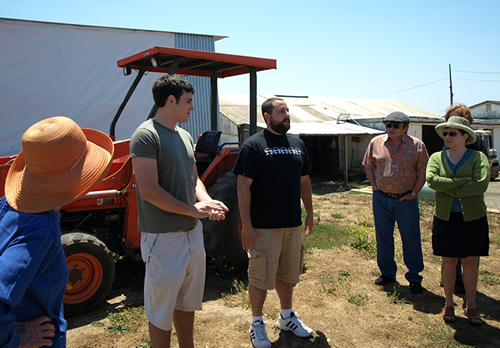 Kyle and Ian Garrone (center) start a tour.
Ian Garrone can often be seen at Far West Fungi's shop at the Ferry Building in San Francisco. If you've visited the store, you know that the display cases are a good barometer of what mushrooms are fruiting on the West Coast. John Garrone sells wild and Far West's cultivated fungi at farmer's markets in San Francisco.
The operation stretches over several acres of agricultural land within sea lion barking distance of the ocean. Huge mounds of red oak sawdust stand ready as the preferred growth medium. On the tour, we saw the impressively large mixer, autoclave with roller bars, labs and sterile rooms, and mushroom growing warehouses.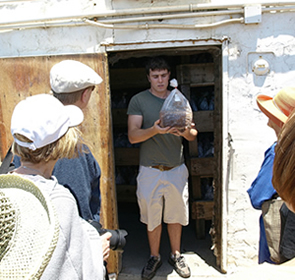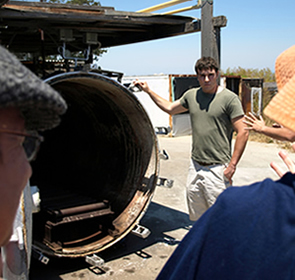 Kyle talks about how the spawn are inoculated into a growth medium and demonstrates how the bags are sterilized in the autoclave.
In the lab, pure cultures are first grown in petri dishes. One small petri dish provides enough incipient mycelia for a thousand mushroom kits! Each strain is carefully tracked from petri dish to gloriously fruiting mushroom product.
A big, red, turn-of-the- last-century mushroom growth medium mixing machine dominated the room in a picturesque, dark, stucco-walled chamber, where the mixture is bagged before it is sterilized.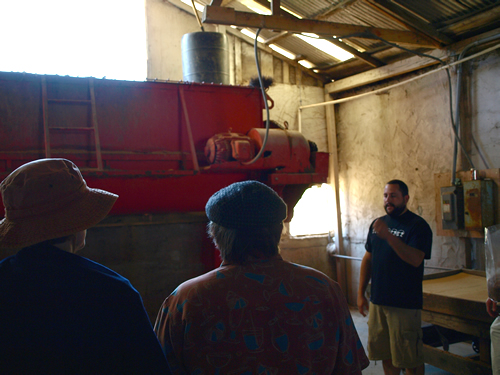 Ian tells visitors how the ingredients are mixed, bagged, and taken to the autoclave.
Shiitake and oyster mushrooms are their most cultivated species. We viewed racks of typical white oysters, and some spectacularly colored yellow and pink ones. Far West Fungi also grows smaller amounts of maitake and hericium. The shiitake had already been harvested; we didn't see any on our visit.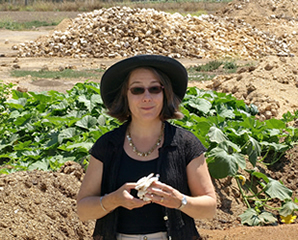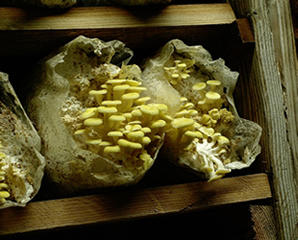 Debbie Johnson with spent growing kits in the background. Yellow oysters nearly at their peak of readiness.
When the mushroom growing bags are spent, sawdust and kits are heaped into giant mounds, providing compost for gardeners, a nice substrate for a pumpkin vine, and insect snacks for local birds in the know.
After our tour, we all met back at the Garrone's to feast slowly on a huge spread of delectable foods. Far West Fungi mushrooms were the order of the day, as box after box of delicious oysters and other varieties were dipped into a marinade and tossed onto the hot grill.
Many thanks to the Garrone family for offering this in depth look at the business of farming mushrooms, and for graciously hosting of this event. Fun with friends and fungus, indeed.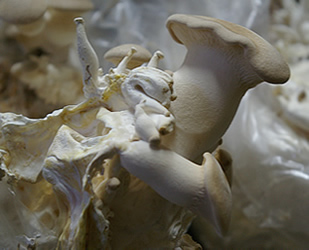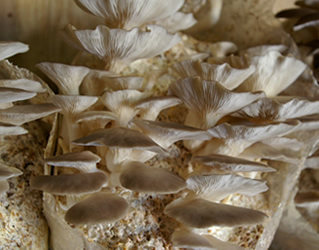 Twisted shapes of king oysters emerge in constant humidity. White oysters emerge from their bags. Photos © David Rust.
Mushroom Farms in the Bay Area

back to top