about milk thistle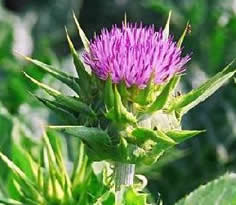 Milk thistle flower
Common names: Mary thistle, blessed thistle, holy thistle.
Sometimes called silymarin, after the Latin name Silybum marianum.
History: Native to the Mediterranean. Used for thousands of years as a remedy for ailments, especially liver problems. Typically used to treat liver cirrhosis, chronic hepatitis and gallbladder disorders.

How it is used
Silymarin can be extracted from the seeds, believed to be the biologically active part. The seeds are used to prepare capsules containing powdered herb or seed, extracts and strong teas.
Source: National Center for Complementary and Alternative Medicine, National Institutes of Health. Original printed as sidebar in Santa Cruz Sentinel.
Extract of milk thistle (Silybum marianum) was reported as an effective treatment for Amanita phalloides poisoning in the United States as early as February, 1996, and more recently in the October 1, 2005 issue of American Family Physician, a peer-reviewed journal.
Intravenous milk thistle extract, provided by Madaus Pharma, was used for the very first time in North America by Dr. Todd Mitchell, Dominican Hospital, Santa Cruz, in 2007.
How Silymarin Works
The efficacies of silymarin (the active ingredient in milk thistle) on blocking the continuous and destructive recycling of amatoxins through the liver have been established in beagle studies in the United States, and are a common and anecdotally effective treatment for amatoxin poisonings in Europe. Various members of the mushrooming community have been clamoring for years for the incorporation of injectable silymarin into the standard protocol for treatment of North American amatoxin poisonings. Unfortunately, it has been an uphill battle, since injectable silymarin has not yet been approved by the FDA.
New Protocol
Teaching hospitals like the University of California, San Francisco have attempted treatment with over-the-counter oral milk thistle capsules, but this treatment has mostly proven to be ineffective. This is perhaps due to the strong vomiting reflex in these poisoning victims, or the fact that the concentrations and efficacies of these capsules vary so widely. It is highly encouraging that injectable silymarin was recently used to treat amanita poisonings here in California, perhaps for the first time in North America. We can only hope that this precedent will be cited and used to create new and more effective treatments for amatoxin poisoning victims in the future. There is almost no downside to injectable silymarin (side effects are mild and few), and the benefits are potentially both liver and life saving.
Hope For The Future
Mushroom knowledge does not travel well from country to country, and ignorance of edible mushroom species and their poisonous look-alikes in locales unknown to an otherwise experienced hunter can prove deadly. We want to see everyone enjoy wild mushrooms in a safe and fun way: young and foolish, old and nostalgic, hungry and homesick; natives and new immigrants alike to our fine, mushroom-studded shores.
We in the mushrooming community, in collaboration with our medical and public health colleagues, must find more effective ways to prevent tragic mushroom poisonings in vulnerable immigrant communities, and by inexperienced mushroomers. New measures might include timely installation of warning posters at local park trailheads, public service announcements broadcast to ethnic audiences, better messaging from California Poison Control, more effective use of the NAMA poisoning case registry, detailed interviews with victims post-recovery, and proactive community outreach by local mushroom societies.
Resources
Here are some additional resources on mushroom poisoning, hallucinogens, and toxins. Many of these publications are not currently in print, but can be found elsewhere on the internet. The last item contains a link to the FDA page:
Benjamin, Denis. "Mushrooms: Poisons and Panaceas," 1995.
Stamets, Paul. "Psilocybe Mushrooms of the World," 1996.
Spoerke, David and Rumack, Barry. "Handbook of Mushroom Poisoning: Diagnosis and Treatment," 1994
Arora, David. "Mushrooms Demystified," 1986.
Beug, Michael. "Thirty-Plus Years of Mushroom Poisoning: Summary of the Approximately 2,000 Reports in the NAMA case registry", McIlvianea, Vol. 16, Number 2, Fall 2006.
Mushroom Toxins, "The Bad Bug Book" Foodborne Pathogenic Microorganisms and Natural Toxins Handbook, U.S. Food and Drug Administration.

back to top