BAMS Spring Morel Foray
May 16-18, 2008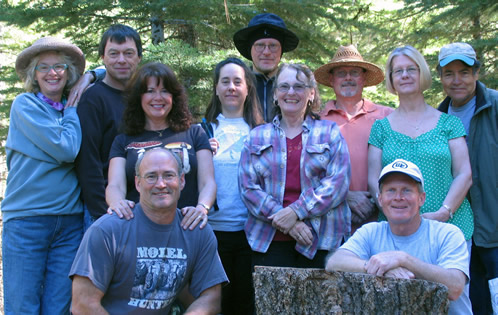 Top row: Debbie, David, Sandi, Rebecca, Ralf, Cecelia, Geary, Linda, Herman
Bottom row: Hugh, Richard
© photo by Hugh Smith
With snow-covered Mount Lassen looming at the end of the highway, friends old and new gathered near Lake Almanor for a day-long Sierra mushroom hunt. Local residents and BAMS foray hosts Herman and Cecelia Brown spent many hours scouting locations before our arrival. Their tireless efforts and generous natures resulted in a very successful foray.
Morels are some of the most fun and challenging of all mushrooms to hunt. They can't run, but they sure can hide, and mimic many natural aspects of their environment. Morels appeared in many unexpected places and in many guises — in our campsite, a few feet from our fire, cloaked and hidden by long, drooping pine needles, fruiting beneath a bower of both dead and living green limbs, and in the middle of a rocky logging road in the sweltering hot sun. We spent lots of time stooping and popping our knees for pine cone or charred-wood pseudo-morels, squinting in the mountain glare and sweating in the ninety degree heat — in between finding morel clusters that literally made us jump and shout.
Every member of our intrepid group gathered goodly amounts of morels. Even first-time hunters located enough to eat around the campfire, drenched in butter and grilled over a wood-fire, and plenty to bring home, too. For the scientifically or even photographically inclined, there were plenty of specimen mushrooms exploding out of the top-dry but below-damp duff. Several other interesting fungi were found in our campsite, including Hygrophorus purpurascens, fresh, young crown cups, Sarcosphaera coronaria — the second most abundant species, and Cortinarius magnivelatus with it's semi-permanent veil still intact. Most of these mushrooms were apparent only as bumps in the ground, conserving that precious mountain moisture.
A good time was had by all, even the moisture and CO2 seeking mosquitoes, who appreciated our tender flesh and delicious blood during the evening potluck. Hey, every sport/pursuit/obsession has its downside. But as Hugh Smith said, "You know, it's not just the hunt that makes this all worth while: it's the people. When the group is this fun and this sociable, it's so worth it. What a blast!"
Species Collected
Agaricus albolutescens - fat, firm, fragrant and yellowing; a delicious edible
Boletus pinophilus - "Spring King," under pine; Herman's first bolete of the local season
Caloscypha fulgens - orange cups and morel indicators
Cortinarius magnivelatus: thick, persistent, silvery veil: white context
Cortinarius sp. - med-large, silvery-brown cap with ragged edges, clustered
Cortinarius sp. - this and that
Cryptoporus volvatus - with a hidden (spore) agenda
Gyromitra montana - edible when cooked
Hygrophorus purpurascens - red-purple streaks, yellows with age, fragile partial veil
Hygrophorus sp. - immature; dirty white
Morchella sp. - plenty for all!
Nolanea holoconiota - small, common, nondescript, nipple-capped, rosy-salmon gills
Pholiota highlandensis - small, reddish-capped, cluster of burn 'shrooms
Ramaria sp. - yellow, maybe rasilispora
Rhodocollybia maculata - pink-gilled cluster; mystery mushroom solved
Sarcosphaera coronaria - lots of these hollow, violet-centered oddities buried in clusters in the duff
Tricholoma vernicatum - big, white, very thin partial veil, strong odor of cucumber
Verpa conica - smooth capped, long-stalked, edible to some