All California Club Foray
January 28–30, 2011
Although rain had not graced the California coast for over two weeks, the 4th Biennial All California Club Foray hosted by Debbie Viess and David Rust of the Bay Area Mycological Society was a resounding success.
First off, the weather was indisputably lovely. The foray-goers were a geographically diverse lot, with members from the Puget Sound Mycological Society, the San Diego Mycological Society, all the Bay Area clubs, and even a New Yorkite in attendance!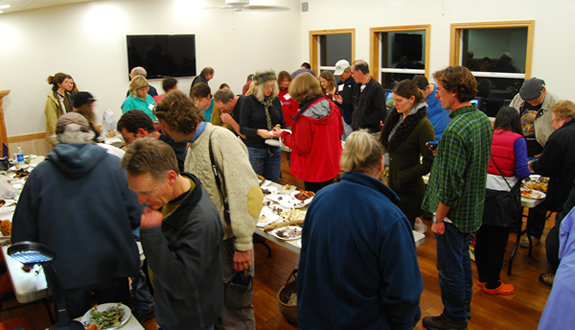 ACCF attendees look over the collections in the Albion Field Station Lab. © photo by Christian Schwarz.
Oluna Ceska's presence was much appreciated by the taxonomy-minded folks. Her microscopy-heavy presentation on Little Brown Mushrooms directed the crowd's attention to those often-maligned and overlooked members of our mycoflora. She also enlightened us regarding the importance of putting in an intense schedule of field hours when compiling a fungal inventory — her long term survey of the macrofungi of Observatory Hill in Victoria, BC, should be an example to all of us macrofungal taxonomists.
Kim Traverse uses two microscopes for identification

Peter Werner and Karen Rusiniak
© Photos by Hugh Smith
Adolf Ceska also contributed his knowledge, making Noah Siegel happier than a schoolboy on holiday by identifying Corticium minnsiae (not collected at ACCF for those of you keeping track).
Debbie Viess, David Rust, Kim Traverse, Oluna and Adolf Ceska brought in specimens of a species of Calyptella from the Friday pre-ACCF foray, perhaps representing a first report of the genus from California!
A good sampling of Hygrocybe came in, including H. flavifolia, H. fornicata, H. laeta and a putative collection of H. psittacina var. californica, as well as the more usual species.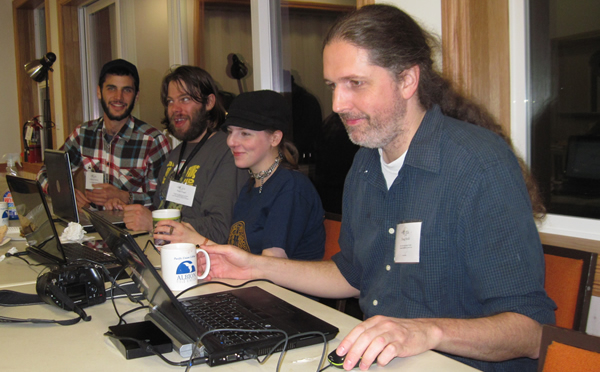 Christian Schwarz, Noah Siegel, Erin Page Blanchard, and Douglas Smith © Photo by Hugh Smith
Debbie Viess brought in a nice collection of the Mothball Fungus, Camarophyllopsis foetens. Sweet! Or rather, Naphthol!
Hugh and Sandi Smith were present, bringing both fun and fungi from Yuba City — including some rather unexpected sandy-soil/desert specialties, including Battarea phalloides, Tulostoma, Geastrum floriforme, and a tiny Astraeus. Hugh Smith — a Myco-Wizard!
Phil Carpenter, Henry Young, and Ryane Snow (Mendocinoan Myco-Celebrity) led walks for throngs of appreciative foray-goers.
Hugh Smith's hot tip on a horse corral near Jackson State Forest led Erin Blanchard and the rest of the "Brat Pack" to piles of horse dung, and the associated coprophilic fungi – Coprinopsis nivea, a handsome Conocybe, a delightful Pholiotina, and a beautiful collection of Panaeolus papilionaceus.
Folks who were after edible fungi found a good amount of Black Trumpets (Craterellus cornucopioides) and hedgehogs (both Hydnum repandum and umbilicatum). Yellow-foot Chanterelles (Craterellus neotubaeformis) were present in huge quantities, too.
A great weekend overall!
~Contributed by Christian Schwarz
---
Final Species List (pdf)
Click here for Debbie Viess's Recap
From an attendee
Thank you for a great weekend. This was my first foray and I learned so much. The people were great, the food was great, the information was enlightening and I learned a great deal. I have never seen so many species identified in one place. I believe we have some areas here that equal the diversity of Mendocino, and no one has even begun any sort of systematic study. It seems to get passed up as people look at the northern California coast and the Pacific Northwest.
While the presentation on LBM's was beyond my current knowledge it inspired me to learn more. I can think of several local 70 hectare parcels here abouts to begin a detailed survey of species, and while I can't begin to approximate the expertise you all have, I am inspired. The diversity of Siskiyou county is little explored beyond a few well know edible such as boletes and morels. Even the boletes are little understood. My taxonomic skills are limited to say the least, but I believe there are boletes here that are different from anything in any of the books. We do live here in a convergence of several climates — alpine, mediterranean, high desert, conifer and mixed forest, etc. that give rise to a geat diversity of species, fungal and otherwise. I now have a better grasp of how to go about distinguishing the fungals. Perhaps a local mycology club is in the works. I will be collecting data on the local fungi and sharing it.
Thanks again for a great experience. Share my thanks with everyone.
~Contributed by Arend Thomas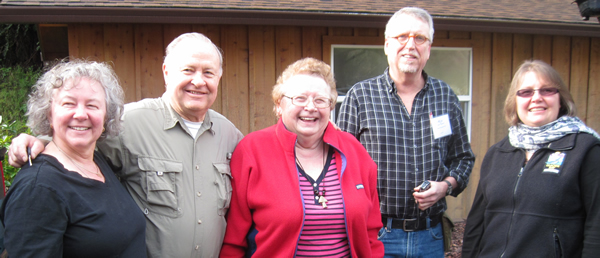 Patrice Benson, Don Lennebacker, Hildegarde Hendrickson, Kim Traverse, Cathy Lennebacker, and Joanne Young (not pictured), members of the Puget Sound Mycological Society in Seattle, Washington attended the foray.
© Photo by Hugh Smith