All California Club Foray 2009
January 29 – February 1, 2009
It was a great weekend on the Mendocino coast for members of many of our California mushroom clubs. Happy faces, beautiful weather, fine food and just enough fungi made for a fun time for all. Especially heartening was the crowd of happy taxonomists hanging in the classroom, collaborating on IDs, scoping their finds, perusing the literature and generally having a geeky good time with fungi. Even the edible-minded mushroomers got into the swing of things, letting go of the "must find edibles" concept and appreciating the many marvelous fungi that were present in the forest to feed our other senses.
| | |
| --- | --- |
| | |
| Hydnum umbilicatum © Photo by Hugh Smith | Hygrocybe sp. © Photo by Hugh Smith |
Judy Roger was our delightful chief mycologist, traveling down from her home in the Pacific Northwest to share her knowledge and enthusiasm.
---
It was a great group. Everyone so enthusiastic and interested. I felt this was a more engaged group than I usually run into. It was a real joy to be with everyone and the long trip was well worth it... Judy Roger
---
Judy's Saturday night talk on "Some Oregon Mushrooms" was especially appreciated: not merely photos of mushrooms, but plenty of interesting stories to go along with them. Judy is one of the few people on this planet with an intimate knowledge of the impressively large, aged and endangered noble polypore, Bridgeoporous nobilissimus, with their furry, living caps and Judy's genuine affection for these great beasts, they seemed more like pets than woody excrescences of old growth stumps: polypores with personality!
I want to say thanks to the whole crew at the Foray. We were blown away by the friendliness, and generosity of the whole group. Everyone endured our novice questions with amazing patience. Thank you Debbie and David for all the hard work to bring together such an amazing event.
Thanks to Hugh for taking us along on Saturday and opening our eyes in the woods. Your enthusiasm is infectious!
Eliel & Marie Johnson
---
Thank you for the great ACCF 2009. I had a fantastic time... met some great folks! I would like to keep in touch with some of them! Rain is forecast for the next few days. All the best,
Don Bryant
---
Just wanted to thank you both for organizing a "superfabulicious" weekend!
When I arrived Friday night, I was all alone and didn't know a soul. Toni Gillespie welcomed me and introduced herself, and told me where to find Will, who was also very helpful and kind.
BTW, I stayed an extra night there, explored Mendocino and Ft. Bragg on Sunday afternoon, and had a special treat watching whales spouting near the Nolo River at sunset!
My roommates were SO nice, and could not have been more perfect as roomies. My foray buddies, Virginia and Naomi, took me under their wing, and we followed Phil et al till they wore us out climbing up slippery hillsides looking for the elusive Craterellus cornucopioides. Mark found a few, and kept his word about "fixing it up for dinner" (Suuure, yeah right, we'll never see those babies again!). It was so touching and we were forever grateful for the experienced shroomers' patience and generous spirit!
I will join BAMS and tell everyone I know about it. You folks rock!
Giselle "Gigi" Stahl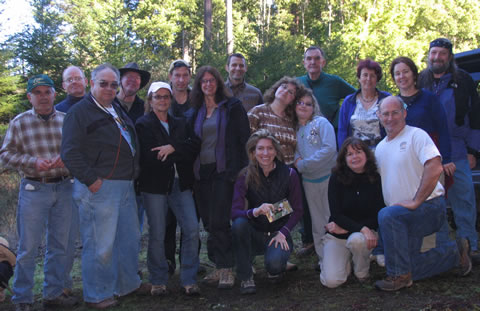 Hugh's Group © Photo by Hugh Smith