Hallucinogenic Mushrooms as Entheogens:
The Use of Psilocybin Mushrooms in Recreation,
Mental Health and Spirituality
Special evening with Dr. Michael Beug
Thursday, March 22, 2018 | 338 Koshland Hall, UC Berkeley
This presentation begins with the 1957 Life Magazine article of R. Gordon Wasson, "The Discovery of Mushrooms that Cause Strange Visions." Wasson's article introduced Psilocybin mushrooms to North American readers and prompted pilgrimages to Mexico. You will learn how Timothy Leary and Richard Alpert (Ram Dass) became cultural icons of the 1960s with their message of "turn on, tune in, drop out." Ken Kesey, a participant in CIA and military experiments on use of hallucinogens, obtained the keys to the drug cabinets and gave birth to the Merry Pranksters and the "Kool Aid Acid Bus." In 1968, the US Federal prohibition of psilocybin and psilocin was passed, largely to get at anti Viet Nam war protestors. At this time, The Evergreen State College was coming into existence. In 1975, Paul Stamets, Jeremy Bigwood and Jonathan Ott simultaneously arrived at his door and a series of international hallucinogenic mushroom conferences begins, bringing R. Gordon Wasson, Albert Hoffman (the discoverer of LSD) and many others to Olympia. Learn how, working with Paul and Jeremy, Beug determined which North American mushrooms contained psilocybin and psilocin and how potent each species was.
Michael Beug completed his Ph.D. in Chemistry at the University of Washington in 1971. After one year teaching at Harvey Mudd College, he spent 32 years at The Evergreen State College in Olympia, Washington where he taught chemistry, mycology and organic farming and served for seven years as Senior Academic Dean and for many years as head of the Environmental Studies Division. Michael started mushrooming after an adult education class taught by Dr. Daniel Stuntz in 1969. He met Kit Scates and Dr. Alexander Smith and began photographing fungi in 1973. His photographs now have appeared in roughly 50 books and articles on mushrooms. In 1975, he joined the North American Mycological Association (NAMA) and the Pacific Northwest Key Council, a group dedicated to writing macroscopic keys for the identification of fungi. He has served four terms as president of the Pacific Northwest Key Council.
New White Paper: strategies to reduce risks
and expand appreciation of foraged wild mushrooms
A new paper aimed at reducing mushroom poisonings and increasing education about edible foraged mushrooms has been published on the website of the North American Mycological Association. BAMS May speaker Anna Bazzicalupo, and her mentor at the University of British Columbia, Dr. Mary Berbee, are the lead authors.
Poisonings by mushrooms in the Pacific Northwest (USA) and British Columbia (Canada) will likely increase because of rising interest in foraging for wild food. Among these, serious poisonings may also increase because the non-native death cap mushroom Amanita phalloides is spreading in our cities, parks and orchards. In this paper, we outline goals for the development and dissemination of information on edible and poisonous mushrooms for healthcare professionals and the general public. To improve on the miniscule 5% of mushrooms identified following calls to poison centers, clear procedures for front-line workers should be developed and implemented so that samples of ingested and potentially poisonous mushrooms are routinely and rapidly conveyed to mycological experts for identification. Through collaboration with mushroom clubs, we recommend expanding training in identification. In consultation with regional governments, voluntary certification programs to help consumers recognize high quality in retailed foraged mushrooms should be developed.
To read the full paper,
follow this link...
Further Reflections on Amanita muscaria as an Edible Species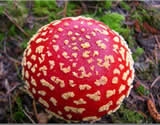 Here is a thoughtful response to the current push to eat Amanita muscaria, along with a history of its treatment in field guides, its toxins, and warnings about edibility. To read the article, follow this link...
This article first appeared in Mushroom The Journal, Issue 110, Fall 2011 - Winter 2012, p. 42.

A Partnership for Science
The North American Mycoflora Project organizational meeting was held in New Haven, Connecticut, July 14-15, 2012. See 16 video presentations from the meeting. See the great group photo. Read more...
---
The Bay Area Mycological Society (BAMS), established in 2006, is dedicated to the art and science of mushrooms. We hold our meetings at UC Berkeley. We hold local and long distance forays, participate in the Yosemite National Park Fungal Survey, and organize the Point Reyes Fungus Fairs and All California Club Forays.
We are affiliated with the North American Mycological Association. We host a lively online discussion group. Our members range from beginners to professionals in the field. We believe that everyone wants to learn, and has ideas to share. Join us.
---