BAMS Meeting, Wednesday, October 17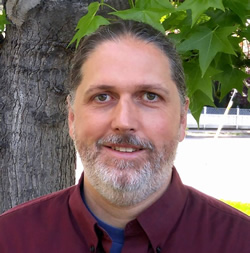 Doug Smith wil be speaking about his long term fungal documentation of Los Trancos Reserve in Palo Alto. Many of the fungi found in those mixed oak woodlands are also found throughout the Bay Area, so it will be a good, local, pre-season mushroom refresher course for all! See the calendar for more details!
For a good idea of the vegetation types found at Los Trancos, follow this link: https://bahiker.com/southbayhikes/lostrancos.html
Doug last spoke to BAMS in March, 2017. We're looking forward to seeing everyone in 338 Koshland Hall to kick off a new mushroom year.
In Memoriam: Gary Lincoff (1942–2018)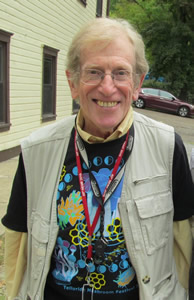 Gary Lincoff, a driving force in the early years of amateur mycology and a constant educator to many, many beginners died on March 16 in Manhattan. He was the recipient in 1986 of the North American Mycological Association (NAMA) Award for Contributions to Amateur Mycology, an award that was renamed in his honor two years ago: The Gary Lincoff Award for Contributions to Amateur Mycology. Gary was president of NAMA 1979-1988, and awards committee chair for many years.
In 1971, Gary and his wife Irene took their first walk with the New York Mycological Society. When Lincoff discovered mushrooms, he convinced the New York Botanic Garden to allow him to teach classes, a relationship which lasted over 40 years. In 1978, Gary wrote a book with Colorado mycologist and doctor D.H. Mitchel, Toxic and Hallucinogenic Mushroom Poisoning: A Handbook for Physicians and Mushroom Hunters. The book's popularity led to publication in 1981 of The Audubon Society Field Guide to North American Mushrooms, a watershed moment for people of all interests in the field of mycology.
Gary led forays in New York — either Central Park or Staten Island — every week of the year, no matter the weather. He was a constant participant in events across the nation including the Annual Gary Lincoff Foray, sponsored by the Western Pennsylvania Mushroom Club, and SOMA Camp, here in the West. Gary was often the Principal Mycologist at the Mid-Atlantic Mushroom Foray. At last year's Telluride Mushroom Festival, participants in the annual parade honored as "Gary Lincoff", incorporating his standard vest and hat into a costume.
Gary had his own website that included much help for beginners, info on toxicity, and scientific articles on DNA classification of mushrooms. Gary's energy and enthusiasm will be greatly missed by mushroomers all over the world. I urge you to read the excellent New York Times obituary, a memorial posted by the New York Mycological Society, as well as a eulogy published by the John Cage Trust.
New White Paper: strategies to reduce risks
and expand appreciation of foraged wild mushrooms
A new paper aimed at reducing mushroom poisonings and increasing education about edible foraged mushrooms has been published on the website of the North American Mycological Association. BAMS May speaker Anna Bazzicalupo, and her mentor at the University of British Columbia, Dr. Mary Berbee, are the lead authors.
Poisonings by mushrooms in the Pacific Northwest (USA) and British Columbia (Canada) will likely increase because of rising interest in foraging for wild food. Among these, serious poisonings may also increase because the non-native death cap mushroom Amanita phalloides is spreading in our cities, parks and orchards. In this paper, we outline goals for the development and dissemination of information on edible and poisonous mushrooms for healthcare professionals and the general public. To improve on the miniscule 5% of mushrooms identified following calls to poison centers, clear procedures for front-line workers should be developed and implemented so that samples of ingested and potentially poisonous mushrooms are routinely and rapidly conveyed to mycological experts for identification. Through collaboration with mushroom clubs, we recommend expanding training in identification. In consultation with regional governments, voluntary certification programs to help consumers recognize high quality in retailed foraged mushrooms should be developed.
To read the full paper,
follow this link...
Further Reflections on Amanita muscaria as an Edible Species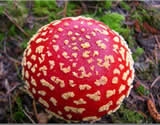 Here is a thoughtful response to the current push to eat Amanita muscaria, along with a history of its treatment in field guides, its toxins, and warnings about edibility. To read the article, follow this link...
This article first appeared in Mushroom The Journal, Issue 110, Fall 2011 - Winter 2012, p. 42.

A Partnership for Science
The North American Mycoflora Project organizational meeting was held in New Haven, Connecticut, July 14-15, 2012. See 16 video presentations from the meeting. See the great group photo. Read more...
---
The Bay Area Mycological Society (BAMS), established in 2006, is dedicated to the art and science of mushrooms. We hold our meetings at UC Berkeley. We hold local and long distance forays, participate in the Yosemite National Park Fungal Survey, and organize the Point Reyes Fungus Fairs and All California Club Forays.
We are affiliated with the North American Mycological Association. We host a lively online discussion group. Our members range from beginners to professionals in the field. We believe that everyone wants to learn, and has ideas to share. Join us.
---