State Parks Action Day — March 20, 2012
Lobbying in Sacramento
Parks Action Day was quite a learning experience. I got to attend a committee hearing, saw what people do when they lobby legislators, and met some very interesting people. There were 180 or so state parks supporters, each with our own constituencies, each with our own reasons to make things better. Even though several people from BAMS and the FFSC had signed up to attend, mushroomers were definitely under-represented.

10th Annual Parks Action Day Participants
Photo Credit: California State Parks Foundation © 2012 Diana Casanova
There were people from many, many organizations that support state parks, including a large contingent from San Diego. We talked about what state parks and closures mean to us. This was the real heart of the matter. Meeting people who traveled a long distance to make a point: folks who care, and who have clout. People who care about access to state parks need to forge alliances with other groups. And we need to learn how to lobby for our own stake in the park system. And we need to make our presence known with Ruth Coleman at the Department of Parks and Recreation and have a reason to sit down with people who make policy — especially policy on collecting mushrooms.
How the Closures Affect Us
During the day's activities, I learned that the Woodside Campground at Salt Point State Park (SPSP) may be CLOSED indefinitely — blame it on service cuts. (Update: Apparently the campground will now open this month.) We know that Stump Beach and Fisk Mill Cove are closed. SPSP is one of the few parks where we can legally collect. We're losing it through annual service cuts. Not so very long ago, there were seven rangers, multiple maintenance staff, and naturalists. Now, there's one ranger and half the park is effectively closed.
I learned that there is a slim chance the legislature may restore the $11 million in cuts to the Department of Parks and Recreation (DPR) budget which would keep open the 70 parks that are under threat of being closed on July 1st. Ten parks have gained reprieves, e.g., Tomales Bay SP, which is being taken over by Point Reyes National Seashore and Austin Creek SRA, which is being managed by Stewards of the Coast and Redwoods.
I learned that current state budget cuts, triggered by low anticipated revenue, will eliminate all seasonal lifeguards on our beaches as well as 20% of ALL rangers currently on the payroll. That's one in five rangers, folks.
To keep parks open, the DPR and the California State Parks Foundation (CSPF) are seeking partners in the non-profit world to take over and run the parks, either in an administrative function, like mushoom permits at Salt Point State Park, or totally running the park. (Law enforcement part of this? Not sure how that works.) There are also private companies, cities, counties, and concessionaires standing in the wings hoping they can take over the lucrative parks. State parks, instead of receiving the commitment and financial support they need from the legislature, are getting decimated by lack of funding, and lack of upkeep. There is a $1.3 billion backlog of deferred maintenance. Again, private interests are frothing to get their hands on OUR parks so that they can take care of them "better" than the state, and squeeze more revenue from our wallets.
I learned that there is a proposal to collect a day use fee from each member of a vehicle, instead of just one fee per vehicle. $8 or $10 per person per day just to get in?
While monitoring park closures, CSPF found a website for pot growers that celebrated the potential closure of 70 state parks, where there will be no staff or law enforcement, and the site even provided a list.
I attended a committee hearing where Jared Huffman, assembly member for Marin and south Sonoma County, who is a strong state parks advocate. In the hearing, he brought up AB1589, his bill to create adequate funding and maintenance of parks through increased revenue collection, a state enterprise fund to construct and install new revenue collection equipment, a process to allow taxpayers to purchase an annual state park pass when we pay taxes, and authorization of sales of state parks supporting license plates — all intended to close the $11 million funding gap. Assemblyman Huffman's bill garnered 12 votes out of 12 present, including four Republicans. Both the California State Parks Foundation and the Sierra Club had a place at the table.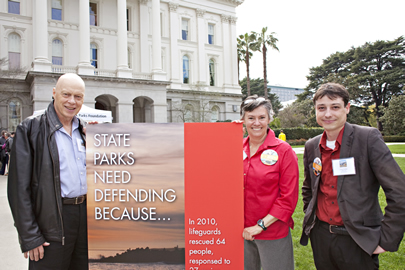 David Rust, Maureen Forney and Greg Zelder pose during a break between meetings
Photo Credit: California State Parks Foundation © 2012 Diana Casanova
My team met with Bob Wieckowski, assemblymember representing an area from portions of Castro Valley all the way down to San Jose. He is definitely on board with saving parks and is looking for long term solutions. He uses parks in the East Bay Regional Parks system. Good guy, supports AB1589.
We met with Brian Nestande, Republican assembly member representing Riverside all the way to Palm Desert. He advocated giving over control of a state park in Riverside County to the county, so that they can run the park. We found out later that this urban park is one of the profitable state parks, and naturally, county control or giving it over to private enterprise, would be advantageous to local government.
We met with Joe Simitian, state senator representing Redwood City, Menlo Park, Atherton... who is sadly termed out as of 2012. He supports keeping all state parks open and thinks the $11 million needed to keep them open is far more cost effective than closing parks and falling further behind from vandalism, pot growers, neglect and loss of jobs. He said that $11 million is 30 cents per Californian, and that's peanuts compared to the state budget shortfall. He said we are one forest fire or one lawsuit away from losing any gains from park closures, and reiterated that "this isn't the path we should take." He added, "we are getting to the place where access is limited to the rich," who can afford to pay high fees to use the parks. His district has 17 state parks, many of which are slated for closure on July 1st.
Finally, we met with my assemblywoman in the East Bay, Mary Hayashi, who is a co-sponsor of AB1589. I spoke with all four representatives about the loss of jobs, the impact on local economies, and diminished access to state parks. I said it is a sorry state of affairs when the Russians have to fund Fort Ross, because we can't afford to do so.
In addition to meeting with representatives, we delivered personal communications from voters in each members' district. CSPF also delivered 40,000 petitions to keep parks open to Governor Jerry Brown.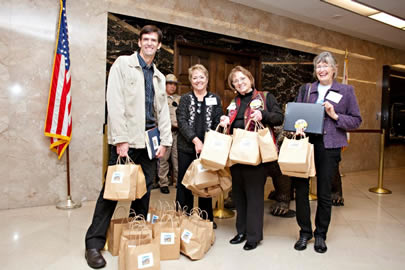 State Parks Action Day participants deliver petitions to governor's office
Photo Credit: California State Parks Foundation © 2012 Diana Casanova
What you can do
While I was in Sacramento, I thought frequently about our friend Larry Stickney, who was very strident about our rights in our state parks. What would he say were he still around? Something like, "these parks belong to us, and what you are doing is wrong." And I thought of Alden Olmstead, following in his father's commitment to parks, who put out plastic jugs at 70 state parks and asked for people to give a dollar. Olmstead's efforts through the Olmstead Park Fund, including a private donation, saved Jughandle State Park and more.
Stewardship of the parks rests with the state. It is clear that without a clear sustainable funding source for state parks, they will wither away. One last quote from Joe Simitian regarding our role as volunteer advocates: "if you stay away, the bad guys win." We need to get involved, to make sure that doesn't happen... Our treasures are decaying. And we, mushroomers, have not organized to take this issue head on. When can we begin the discussion?
David Rust © 2012